10 Great Montreal Food Blogs
The universal gourmet culture has positively exploded over the last four years – "foodie" wasn't even a term until a few years ago, and now it's a hashtag. And alongside this boon in foodie culture has grown an immense restaurant scene. After all, Montreal has the largest number of restaurants per capita, and that number is just getting escalating. Luckily, there's a team of helpful eaters around the city to share their wisdom on which establishments can be skipped, and which are worth the hype. The food bloggers are Montrealers, some born-and-bred, some transplants from elsewhere, who travel the gridded streets, camera (or cell phone) in hand, eager to taste whatever springs forth from Montreal's culinary masterminds. And thank god they do, frankly, because that all sounds exhausting and expensive. Want to make sure you get the best bite out of this city? Trust these ten best Montreal blogs in the city.
Food Guy Montreal was just a guy who liked food before he started working at Cavallaro. But now, five years of blogging later, he's a neighbourhood expert on not just popular restaurants in the city but also food gadgets, local personalities, food trends, and home recipes (he's figured out a lot of ways on making the humble spud pretty damn dazzlin').or a trustworthy recommendation on all restaurants in the city., just ask Food Guy Montreal.
Photo via MTL Food Snob
Prepare to get a serious case of lifestyle envy. If there's a new restaurant that's gaining acclaim, chances are, it's been featured on her blog, MTL Food Snob. An Tran's knowledge of upscale eateries in the city has helped make it a great guide for anyone with a discerning palate for wine and the finer things in food, yet the MTL Food Snob doesn't shy away from the chili cheese fries at Verdun barbecue joints, or waxing poetic about the tater tots from Le Cheese Truck. This blog is perfect for recommendations for fancy (and unique) nights out and new restaurants.
Photo via Montreal Food Divas
Take it from some girls who really know how to dine out. Their ratings scale is based on whether or not they would return on a Thursday night (you know, for when it's ladies' night and the feeling's right), and – trust them – they're experienced. The Montreal Divas skew heavily into French restaurants, because French restaurants are typically really good at wine, but they never shy away from a good poutine or a grilled cheese. With regular appearances in Global Montreal and other media outlets, the Montreal Food Divas now have the trust of the city.
Photo via Mr. Lew's Great Burger Search
Mr. Lew is a guy of seemingly simple tastes, with a heroic passion for burgers. Having downed over 300 burgers in the last six years, mostly in Montreal, Mr. Lew has established himself as the leading expert of the humble beef patty. And unlike his fellow bloggers, he doesn't discriminate, hitting burger joints both upscale gourmet and down-home casual with no standardized rating scale. Instead, he criticizes and praises in exquisite detail, with patient analysis of everything between the buns – and he never hesitates to give restaurants a second chance. For an unfussy burger recommendation, find the guy who's tried it all.
Photo via Roasted Montreal
The gal behind Roasted Montreal is a mom, but this is no mommy blog. Instead, Michelle travels the length of cosmopolitan Montreal looking for only the delicious, usually at an accessible and reasonably priced restaurant that is, more often than not, kid friendly. A refreshing departure from some of the other foodie gadabouts in the Montreal food blog scene, Roasted offers great recommendations for restaurants for reasonable dates, girls' nights, and family dinners that won't break the bank. And for hip moms everywhere, she has even assorted her favourite Canadian Etsy stores in her website shop.
Photo via Braised & Confused
The duo behind Braised and Confused not only make the trek all over the island of Montreal for a decent meal, they'll gladly board a plane – across the US, to Istanbul, Hong Kong, Paris, and beyond. Their blog breaks down their restaurant picks in extremely comprehensive categories, specifying Montreal neighbourhoods and type of dish. And, having been professional eaters since 2011, they've now amassed an almost encyclopaedic knowledge of the chefs and restaurants in the city. However, this experience doesn't come cheap – most of their featured restaurants are fairly upscale. However, if you need a recommendation for a nice night out, then Braised & Confused has your evening sorted.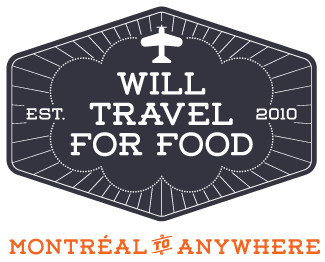 Photo via Will Travel For Food
Mayssam Samaha's willingness to travel for food has taken her through several homes (from Lebanon, to NYC, to Montreal) to trips all over Europe, the States, and even across South Africa's wine country. Her blog doesn't just list all of her favourite restaurants to eat, she creates helpful guides for seasonal goodies or just whatever she's fallen love with on any given month. As a result, the blog posts feature refined recommendations with delectable photos, and some even include extremely comprehensive maps of Montreal's independent cafés and most delicious terrasses. A coffee and bakery fanatic, hers is the only opinion you need to trust for such simple caffeinated delights.
Photo via Montreal Breakfast Review
It is both a blessing and a curse that Montreal has such a robust brunch culture. With more brunch spots than almost any other kind of eatery, citizens of the city are truly spoiled for choice – which, in turn, makes deciding on where to go a fairly laborious decision. Diner or restaurant? Classic or inventive? Ethnic or classic bacon-and-eggs? It's a problem that exists very much in the first world, but even #FirstWorldProblems are still problems. Which is why the bloggers behind the Montreal Breakfast Review have taken it upon themselves to go out and taste their way through Montreal's expansive brunch scene, only to come back and report. With categories that help break down price range, days open, neighbourhoods, their ratings, and even wheelchair accessibility status — all in both French and English, spread over literally hundreds of brunch spots — the Montreal Breakfast Review might just be your best bet on a hungover morning.
Photo via 514eats
514Eats is less a general food blog as it is a highly researched and meticulously created encyclopedia of Montreal restaurants. These two dudes have it down to textbook specifics, with reviews that break down any given place's atmosphere, menu, service, and even some context as to their entry. Of course, for readers who just want a quick pick on the go without reading a whole post, the Guide is a comprehensive restaurant and bar directory which lists restaurants alphabetically with some details into pricing, type of meal, their  verdict, and helpful notes (like whether or not a restaurant is BYOW, child friendly, or better for afterwork 5 à 7 ). Their handy search filters also help you find the restaurant you're looking for amidst their over-200 listings.
Photo via Shut Up And Eat
Despite the simple command inherent in this blog's name, sometimes just shutting up and eating is harder than it looks – even for the seasoned Montreal diner. Take dim sum, for example – with so many different plates of unique tastes and inconsistent quality rolling by every table at Kam Fung, how does a first-timer know what to order? Jason, the blogger behind Shut Up And Eat makes it easy, with a regularly updated visual guide of dim sum dishes with mouthwatering photos and a handy pronunciation key. Alongside Dim Sum for Dummies, Shut Up And Eat also has great posts on Food Face-offs (so you know, for example, which is the unassailable smoked meat victor), and handy maps for ethnic grocery stores. And for nights indoors, there are great Chinese-influenced recipes to try at home. So what are you waiting for? Shut up and eat!
Want want more travel inspiration delivered to your mailbox? Sign up at ElysiaTravel.com and discover exclusive experiences in Quebec and across the world, tailored to match your interests.
Or continue on to read about our favourite Montreal food-lovin' experiences:
Comments
comments